Procter Cast Stone publishes new printed brochure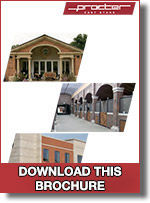 ​
Procter Cast Stone has produced a printed version of its new brochure, giving customers the option of requesting a hard copy or downloading a PDF. The new brochure contains a wealth of information about the company, the recently expanded production facilities, technical services, standard products and the manufacture of high-quality bespoke cast stone products – which is where the company truly excels.
Running to over 30 pages, the brochure is amply illustrated to show the many different types of projects with which Procter Cast Stone gets involved – from residential new-builds, extensions, renovations and conversions, through to retail premises, commercial properties, places of worship, hotels and more.
For those who are new to cast stone, the brochure outlines the numerous benefits of this attractive and cost-effective alternative to quarried stone. In addition, it presents the range of services Procter Cast Stone offers to support customers with any degree of experience with this versatile construction material. The brochure also explains that complex architectural features, such as porticos and balustrading, can be installed by Procter's own installation teams if required.
Given Procter's specialisation in high-quality bespoke cast stone, the brochure describes the design and manufacturing process – including the critical in-house mouldmaking – that results in high-quality products being available in as short a time as possible. For example, the company has recently invested more than £700,000 in a new factory and equipment including an environmental curing chamber that gives newly moulded cast stone products the equivalent of 14 days' cure overnight.
Contact Procter Cast Stone to request a copy of the printed brochure by email websales@proctergarforth.co.uk, telephone us or the online chat facility on the website. Alternatively, download a PDF version of the brochure from here.