Procter Automatic Gates Publishes New Brochure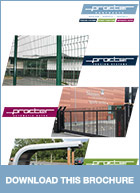 ​Procter Automatic Gates, a UK leader in the design, manufacture and installation of automatic swing, sliding, telescopic and bi-folding gates, has published a new brochure detailing its capabilities and product range. The company's gates are used at industrial facilities, utility complexes, schools, transport hubs and private residences throughout the country.
As the brochure explains, all of Procter's automatic gates are CE marked in accordance with the Machinery Directive; furthermore, the gates not only meet or exceed the relevant standards, but also the guidance published by the HSE (Health and Safety Executive) and the Powered Gate Group of the DHF (Door and Hardware Federation), some of which is more stringent than the standards. Procter Automatic Gates is a Safety Assured member of the DHF Powered Gate Group and all of its installations are approved by Procter personnel who have completed the Powered Gate Group training and been awarded their diploma.
Procter Automatic Gates' range of powered gates is described and illustrated in the new 12-page, full-colour brochure. The range includes swing gates (hinged gates), cantilevered and tracked sliding gates (single-leaf and bi-parting), telescopic gates, and the recently introduced bi-folding gates that are suitable for sites where only limited space is available for the gate when open and/or where frequent or rapid operation is required. Complementary products shown in the brochure include automatic vehicle barriers (rising arm barriers and rising road blockers), static and lifting bollards, and pedestrian turnstiles.
The Automatic Gates brochure explains how any level of customisation is possible, from 'standard' gates dimensioned to suit the site access requirements, through to different infill materials (for example mesh panels or ornate railings), or fully bespoke gates and support posts manufactured to architects' drawings or designs agreed between Procter and the customer. many of Procter's gates today are finished in the customer's choice of colour to match corporate branding or complement the buildings being protected, and gates are often decorated with the customer's logo. In addition, customisation extends to the access control measures, which might include fully automated opening and closing controlled by buried induction loops or infrared detection devices, control via a keypad or swipe card, or remote control linked to an intercom or CCTV system.
The Procter Automatic Gates brochure is available free of charge to download from our website. Alternatively, email info@automatic-electricgates.co.uk to request a copy or enquire about automatic gates.